The first time I tried to setup a website with IIS I was greeted with:
403 – Forbidden: Access is denied.
You do not have permission to view this directory or page using the credentials that you supplied.
Not very friendly.  I immediately thought I didn't have appropriate security permissions to the folder or file I was using.  After mucking around for a while with file/folder security I went to the web to research the problem some more.  Amazingly, I could not find an answer.
My problem was something that I couldn't even really see—thanks to file explorer defaulting to hiding file extensions.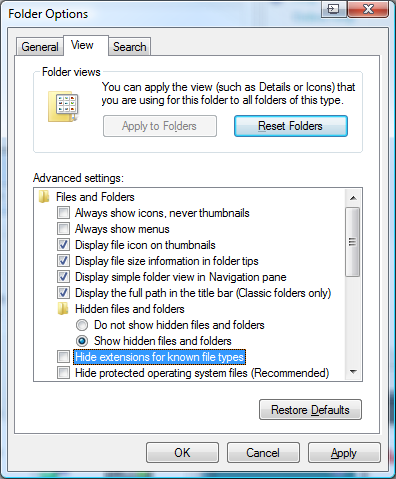 When I saved the file from Microsoft Expression Web 3, the file was named:  "default.html"
And amazingly "default.html" is not a Default Document type!  I renamed the file to "default.htm" (which was another multi-step process) and presto-magic I see my fancy Hello World HTML in the browser.
Perhaps someone with more PC skills can tell me how to rename a file type extension without turning off "Hide extensions for known file types."  I couldn't see how to do it.  And why Folder Options is no longer available from the file explorer doesn't make sense.  I had to  go to Control Panel then Folder Options to get to the View tab.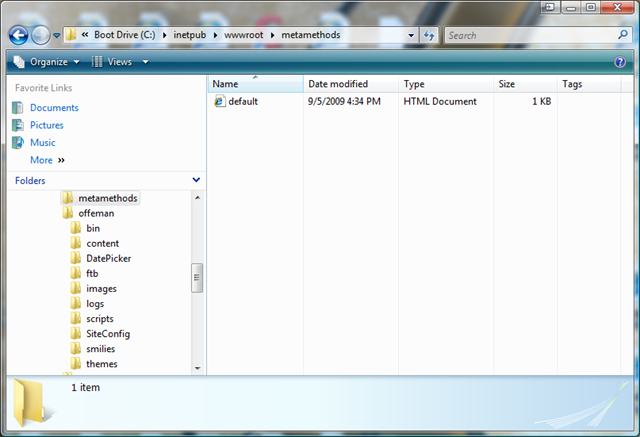 I doubt that I am the first (or last) person that will run into this.  I hope this blog entry helps.