Some random notes on installing, setting up and using the SMTP Server included with Windows Server 2008.
To begin with, make sure you have added the SMTP Server feature via Server Manager (%SystemRoot%\system32\CompMgmtLauncher.exe).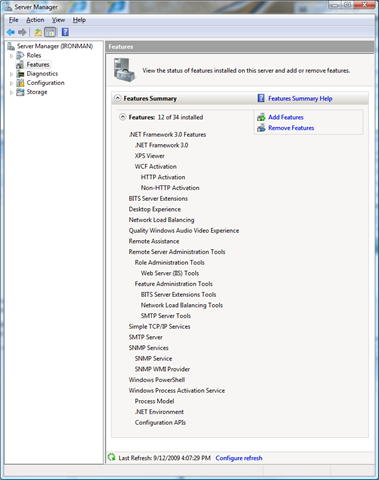 Next, and somewhat confusingly, under Windows Server 2008, the SMTP service is managed by Internet Information Services (IIS) 6.0 Manager (%SystemRoot%\system32\inetsrv\InetMgr6.exe).
Once setup and running, the SMTP service can be used as a mail forwarder and as a drop location.  But note that the SMTP service does not support POP3 (so you can't use email clients for email reading).
When used as a drop location, any mail for any of the domains that have been setup will be placed into the folder C:\inetpub\mailroot\Drop.
Something interesting is that the service supports a Pickup folder.  The folder is typically C:\inetpub\mailroot\Pickup.  Any RFC-822 formatted files place into the folder will be sent via the SMTP service.  Please see http://support.microsoft.com/kb/297700 for more information.
It was initially unclear but the Send copy of Non-Delivery Report To: under the SMTP Virtual Server properties is an email address: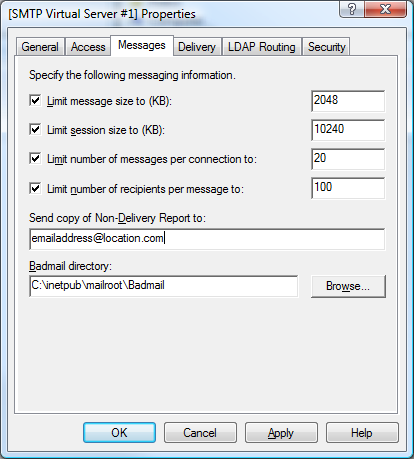 And make sure to only allow relaying of locally (127.0.0.1) created emails by setting up the proper Relay Restrictions (from the Access tab of the SMTP Virtual Server properties) as shown below: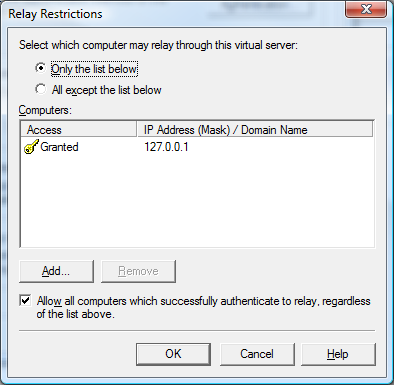 I hope these notes help my memory in the future.